10 Best Albums of 2018
I made this list because I believe that it's important to reflect on the highlights of the year and to also recommend new music for those who haven't heard it. For me personally, 2018 has been a pretty exciting year for music. Many artists that I 've been following released their best work to date this year and I discovered more great music than ever this year. Many of my picks happen to be artists I've only recently discovered including my #1 and #2 spots. There are a lot factors I thought about when making this list. Some include consistency, inventiveness, replayability but it's mainly just my own level of enjoyment. I hope you enjoy my list for the 10 best albums of 2018.
In MGMT's 4th studio album, they create undoubtedly one of the best synth-pop albums of the year. In a lot of ways, Little Dark Age sounds like an 80's throwback of sorts but the band finds a way to make sure they had their own flare and keep the music interesting while maintaining the influence. This album is super varied song for song and features lots of different elements ranging from the futuristic and groovy "She Works Out Too Much" to the silly indie sounding pop tune "When You Die." MGMT continue to surprise and deliver something artistically different for every release, this album accomplishes that and is one of their best yet.
This is the kind of album that you never really get sick of. Part of Kanye's self-produced 5 album release, "Daytona" is another record with a tight 7 tracks and zero filler. Pusha's rhymes come off slick as always, rapping about his lifestyle and he doesn't hesitate to call out trends that he isn't a fan of or artists that he doesn't feel deserve the spotlight. Kanye's production on this record is near flawless. The beats are simple but involve strange samples and classic Kanye 808's but with grimy lo-fi feel. Every track transitions perfectly into each other and some contain god like beat switch ups like the half guitar focused and half James Bond sounding "Santeria." The trimmed down nature of this album makes every single song a highlight making it a very memorable and replayable listen.
This is an experimental hip hop album with noise elements, creative sampling, and sometimes loud shouting verses. You will know pretty fast if you'd like this or not. I think what JPEGMAFIA does with is album is pretty unique compared to a lot of other experimental acts I've heard. Coming through with intense and ear-catching verses that stick in your head and super grimy hard-hitting beats. I am consistently blown away with the amount of detail and hidden samples that appear in the production throughout this record and how well he can flex his voice to match a certain intensity. Check this out if it sounds like it's up your alley.
God's Favorite Customer
By Father John Misty
Father John Misty as always is capable of coming off hilarious, egotistical, dramatic, or dry in a snap of a finger which if anything makes all his records interesting and lovable. Now he is back to writing love songs. This may seem underwhelming considering his last LP tackled humanity and the world at large but these tracks are constantly on par with some of his best. This album was written during a 2 month period when Josh Tillman was dealing with marital conflicts and mental health issues all while living in a hotel. He delivers lyrics that translate his depressive mindset in the midst of a breakup. To simplify, this is his breakup album. These songs aren't all dreary though, with a few catchy and upbeat moments in the tracklist such as the silly unbelievably catchy "Mr. Tillman" or the surreal and peppy "Date Night." Although some of these songs may seem to rehash themes from older works, this still contains some of his best work to date. Track for track there really are no low moments.
Some Rap Songs
By Earl Sweatshirt
The first few verses of this album contain some of the saddest lines I've heard all year "Blast off, buckshot into my ceilin' Why ain't nobody tell me I was bleedin'? Please, nobody pinch me out this dream I said peace to my dirty water drinkers Psh, nobody tryna get it clean Why ain't nobody tell me I was sinkin'? Ain't nobody tell me I could leave." This album dives deep into the crevasses of Earl's addictions and depression and features beats that are intensely chopped, repeated and sometimes dizzying. Earls voice sounds strangely different from past albums almost if his pain has warped his ego and personality. As always Earl is a wordsmith with his verses and along with the painful lines, he always seems to come through with thought-provoking or poetic lyrics and finding clever ways of putting them together. This is key because there is hardly a chorus to be found on this album, it's mainly just verse after verse and it's a style that was needed for this type of record. This album isn't for everyone but I found that just after my second listen it grew on me quite a bit, so give it a chance.
There is something special about hearing your favorite song on the radio. But in today's day and age when almost everyone is subscribed to their own 10$ a month music service without ads, the radio seems like a strange historic relic. In FM!, Vince Staples gives you the experience of listening to the radio with the transitions on this album. You'll hear silly commentators, generic radio sound effects, samples of upcoming tracks, etc. But the sound of the radio also influence the style of music Vince is creating, in between the transitions are 8 super solid radio friendly hip hop tracks that are genuinely refreshing. It's the world of hip hop radio but filtered through the mind of Vince Staples. I cannot tell you how many times I've listened to this album repeatedly as well as a highlight called "Don't Get Chipped." I love the spot on chorus, the rapid beat and vocal switches in and out of the verses and Vince Staples' silly high energy verses. Nothing about this song gets old. I cannot help but feel like trying to make this kind of radio-friendly music could have gone wrong in so many ways but surprisingly it turned out to be an authentic and enjoyable album that should definitely be experienced.
Time 'n' Place
By Kero Kero Bonito
In Kero Kero Bonito's 3rd album they transition away from their typical electro-pop sound and incorporate the genres of noise rock, experimental pop, lo-fi and others. When some artists decide to strip back their sound it can result in a more clear version of themselves and a less artificial sound and while this sounds a whole lot less artificial, if anything it distorts and confuses what you may have thought you knew of this band. Heavy distorted guitars rupture a few of the tracks on here while others present a simple lo-fi jam such as "Time Today." It's really a diverse set of songs that demonstrate the band's ability to perform well under many different styles and repeated listens reveals the level of detail in every track. The vocals from Sarah Bonito come off sweet and youthful and strangely contrast well against the experimental sounds on this album. One thing that hasn't gone away are the sticky choruses that I cannot seem to get out of my head. Check this out if you're looking for something strange, quirky, and catchy.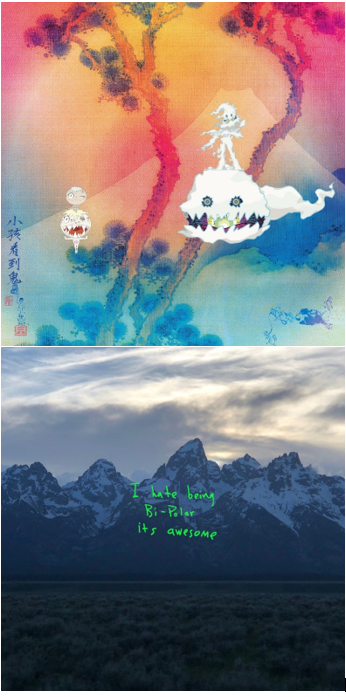 Kids See Ghost
By Kids See Ghost
&
ye
By Kanye West
No matter how the hard I try to view these two album's as separate pieces I always end up seeing them as an extension of one another. One being the physical and material world of Kanye(ye) and the other being our passage into the internal and spiritual headspace of Kanye and Kid Cudi(Kids See Ghosts). In ye, the incredible and powerful anthem to feeling numb, "Ghost Town" appears as a sequel named "Freeee (Ghost Town Pt. 2)" in Kids See Ghosts. The latter of the two being an anthem of breaking loose and overcoming adversity to reach the bliss of freedom. Each just 7 songs short, these albums are free of any filler, cutting back to only the best and most important. Each album's production is pretty unique in the context of today's mainstream hip hop. You won't find any of those generic trap high hats or booming bass. I'd describe the instrumentals as simplistic but very creative and always spot on in what they are trying to accomplish without the bells and whistles. Kanye ranges from clever to completely ridiculous at times and Kid Cudi pulls through with haunting vocals and some of his best verses in years. Even if you aren't a fan of Kanye's current antics I would still recommend you check these out.
Cocoa Sugar
By Young Fathers
I was late listening to this album. Sadly. But I know had seen the cover art a few times on certain forums and reviews because this cover stuck in my brain and never left. Its jarring imagery is something that was instantly recognizable once I saw it and like all great art, is unique in its style. Eventually, I came across the art one last time and decided it was time to actually listen to the album and just like it's cover, the music here unique and undeniably stunning. This album is pure fueled creativity, emotion, and cohesive experiments. It's the trio's most accessible and clean record yet but also their most ambitious. Young Fathers style is hard to pin down because they utilize so many Genres: hip-hop, R&B, Pop, gospel, and industrial to name a few. This makes their sound come off versatile throughout a project and always unique. This record challenges the organization and cohesiveness of traditional albums by having abrupt but strangely fitting transitions between songs giving no room for boredom. An example of this the uplifting, and rap-focused track "Holy Ghost" appearing after the layered, healing, and beautiful "Border Girl." Another example of this is the unconventional stab at cohesion is the second song on the tracklist "Fee Fi" with the dark, heady, and tribal sounding drums along with cryptic lyrics that transitions into the more beautiful and melodic "In My View." This and many of the songs here are carried by strong deep bass lines, melodic catchy choruses, and grand instrumentation and lyrical themes. "Lord" the emotional climax of the record has lyrical themes of power, pain, and moving on for the better. It's difficult for me in explain this tracks because words do not do them justice, they should be experienced. This album, in general, is just powerful.
In a Poem Unlimited
By U.S. Girls
Sometimes you just know an album is going to be special from the very first song. That's exactly what happens here with the introduction "Velvet for Sale." A song that sounds larger than life but as slick and smooth as it's title. In Meghan Remy's 7th studio album, she offers something for everyone and does it better than ever before. Showcasing extreme versatility in her voice and production in a razor-sharp, ridiculously detailed package that seems to be a lot like her magnum opus. Each song presents its very own style and theme to behold and executes it flawlessly. To me there are zero low moments on this album, every song is fit together in the perfect position and no moment feels underwhelming. Each song is fit with its own story and characters and runs through a central theme of love, power, and revenge. Few pop albums this year match up against the chilly sweet "Rosebud" or the grand and soaring passion of "M.A.H." Just when you think you have this album pinned down, It throws a new curveball like the hard-hitting psychedelic "Incidental Boogie" or the groovy hip hop inspired "Pearly Gates." Few albums EVER are this consistently versatile and consistently catchy. Every single instrumental is incredibly detailed seem to be treated with an intense amount of time and love. The album ends with a 7-minute monster "Time". A song with rapid drums, instrument solos, and a sense of urgency. It's the perfect finale to a colossus sounding pop album. For the love of god check this one out.